Cookie Clicker Cheats: Cookie Clicker, developed and maintained by a French programmer Julien "Orteil" Thiennot, is an incremental game that is being played by millions of people every day from all over the world. The simplicity of the game itself is the core reason behind its enormous popularity in today's date. The Cookie Clicker game can be played on pretty much any browser and requires no installation, unlike other games.
It is one of those games that may look simple and boring in the beginning but gets quite interesting as the number of cookies and bars starts to increase your increase. The mechanics of the game are frequently updated, and new additions are made to the game through updates.
Cookie Clicker is the kind of game that requires severe grinding and patience to achieve a substantial amount of cookies. The fact that Cookie Clicker can be so tiresome at times and rewarding the same time is something that keeps the player hooked and glued to their screen.
Coming to the point, the primary purpose of this article is to exhibit or showcase the cheat codes to automate the cookie baking process in the game. In short terms, the hacks or cheat codes that we're going to share in this article will automatically earn you tons of cookies every hour without any effort.
Gameplay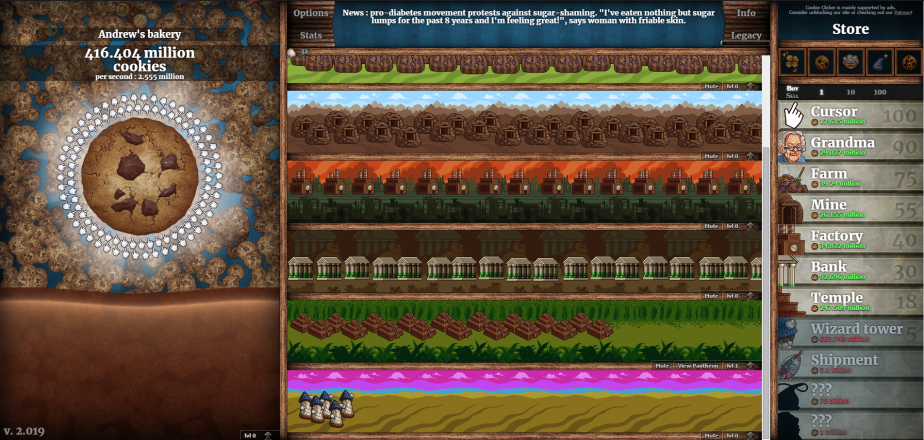 The Cookie Clicker game is so easy and understandable that even a novice player can get pretty much addicted to it in a short period. As a new player, you start with 0 cookies in your inventory, and there's a giant cookie icon on your screen. So, your job is to manually click on the giant cookie icon to generate or bake cookies, which will keep on adding to your account as you continue to click on the giant cookie.
To earn more and more cookies, you simply have to click on the giant cookie as many times as you can. For every click, you will make one cookie in the game. After accumulating a handful of cookies in the game, you can use them to buy assets such as a cursor, grandma, etc.
The assets purchased through the earned cookies will automatically click on the giant cookie for every 10 seconds. This way, you can set up multiple cursors and buy other assets to automate the entire cookie process. After spending an ample amount of time, you will be able to generate thousands of cookies every second automatically.
Cookie Clicker – Save and Resume Your Progress Anywhere
Since it's a mini browser game, you don't have to sign up or anything to start playing. But, you may lose your progress and grind if you uninstall the browser or change computers. Luckily, there's an option to save your progress and restore it.
You simply have to follow these steps to save your game progress safely on your computer.
Visit the Cookie Clicker game website using a web browser.
Wait for the game to load and open up the Options menu in the game.
On the next screen, you have to select the option "Export Save."
Now copy down the code that is shown on your screen.
Make sure to save the code safely as you will need in the future when you want to restore your progress. To resume your growth, perform these steps.
Open Options Menu in the game.
Select Import save option.
Now paste the code that you have copied in the earlier steps,
Click on "Load" and wait for a few seconds.
That's it. The game will start from where you have left, and all your progress will be restored.
Hack Cookie Clicker – Cookie Clicker Cheats
If you have been playing this for a long time, chances are, you might have realized how troublesome this game could become at certain times. You may rely on the following Cookie Clicker cheat codes to get a substantial boost in the game to effortlessly generate millions of cookies every second.
People who are looking to experiment a bit with the mechanics of this game can make use of the following cheat codes.
I typically use the Google Chrome browser to play this game since it's my default browser. But, you may use any browser of your choice to use these Cookie Clicker cheats to give yourself a boost in the game. The steps for different browsers are mentioned below.
Firstly, you need to bring up the console page of your browser, Go ahead with the below commands to proceed.
Google Chrome Browser:- Press Ctrl Shift+ J simultaneously.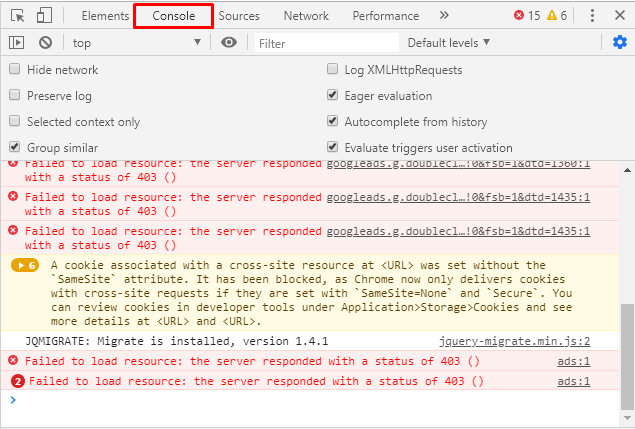 Mozilla Firefox:- Press Ctrl + Shift + K simultaneously.
Mac/Safari:- ⌘+⌥ Option+C.
Edge Chromium:- Right-click anywhere on the screen and select the "Inspect Element" option.
Cookie Clicker Cheats – Cheat Codes to Break-in
To Generate Cookies Instantly –
Game.Earn(the number of cookies)
Select the "Console" option in the Inspect Element window.
Type in Game.Earn(the number of cookies you want to be generated)
Hit enter and the specified amounts of cookies will be created right away in the game.
Example:- Game.Earn(1000000) to generate 1 million cookies.
Ruin The Fun Cheat Code –
Game.RuinTheFun()
Open up the Inspect Element window and Go to Console option.
Type Game.RuinTheFun(); in the console.
Hit enter to execute the command.
As a result, all the upgrades and achievements will be unlocked in your account right away.
Generate Infinite Cookies –
Game.cookies=Infinity
Using this cookie clicker cheats code, you can have an infinite amount of cookies added to your account. You may use the generated cookies to buy whatever assets you like in the game. To perform this cheat code, you have to enter the below-mentioned command in the console tab.
Game.cookies=Infinity
Hit enter, and the command will be executed. Within a few seconds, you will find infinite cookies being added to your account in the game.
Generate Unlimited Cookies Per Click- Game.cookiesPs=number
By default, the game will give you one-click on for every click you do. You can change this rule and get as many cookies as you want on every click. Simply enter the following command under the console tab in the Inspect Element window.
Game.cookiesPs=number
Replace "number" with the number amount of cookies you want to be generated for every click. For example, [Game.cookiesPs=1000] to generate 1000 cookies on every click.
More Cookie Clicker Cheats
| Cheat Codes | Results |
| --- | --- |
| Game.cookies = <amount> | change the amount of cookies in bank |
| Game.cookies = NaN | make it look like you have infinity amount of cookies |
| Game.cookies = Infinity | To actually obtain Infinity cookies |
| Game.cookies = -Infinity | to clear infinity cookies |
| Game.goldenClicks = <amount> | Set Golden Cookie Clicks |
| Game.lumps = <amount> | Set Sugar Lumps Amount |
| Game.fps = <FPS> | To change FPS |
| Game.SetAllAchievs | unlock all achievements |
| Game.RuinTheFun | Ruin the fun |
| Game.SetAllUpgrade | get all upgrades |
| Game.MaxSpecials() | Max Specials |
| Game.santaLevel=<level> | set santa level |
| Game.dragonLevel=<level> | set dragon level |
Cookie Clicker Unblocked Version
All the cheat, as mentioned above codes, require a tiny bit of interaction with technical stuff. In case, if the methods mentioned above prove to be difficult for you, then you try out the Unblocked version of Cookie Clicker game.
One of the best features of the Cookie Clicker Unblocked version is that you can directly apply cheat codes in it without having to open the inspect element manually. There are plenty of unblocked versions of Cookie Clicker game available on the internet with small variations.
Simply search it on Google, and you will find them on the first page itself.
Final Words
Cookie Clicker is fun at the start, but it somehow tends to get tiresome and ugly as you start spending time in it. However, you can always use the cheat mentioned above codes, or you could say, hacks, to earn millions of cookies without manually interacting with the game.
You don't always have to click on the giant cookie to earn cookies, nor do you have to sit in front of the screen for hours to make a decent amount of cookies. Go ahead with our cookie clicker cheats and hacks and let us know what you think.